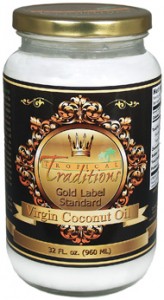 *Seeing as how this is my first product review, please be patient/understanding with me!*



A couple of weeks ago I received a jar of Tropical Traditions Gold Label Virgin Coconut Oil. When I first opened it, I was a little confused. It was rock solid!

LOL

The next day, after sitting in my sauna-like house, it had softened up so I began my experimentation with the coconut oil!

Skin

Before I get into the review, let me explain something. Last winter I noticed that my skin had changed. For some reason (not sure if it was due to diet, medication or what) it had become extremely dry. Regardless of how much lotion I slathered on in the mornings, by lunch my legs and arms were not really soft & smooth. I'd read that coconut oil was beneficial for skin as well as hair, so I figured I'd try it. I began using it with the Vaseline intensive care that I usually use, and noticed that it actually lasted! So I started using just the coconut oil and I love it! I can tell a difference in my skin's overall appearance, even fresh out of the shower before I put it on. The biggest difference can be seen on my elbows. They weren't as smooth as I'd like since they're always rubbing against the rather rough arms of my office chair. After only about a week of consistently using the coconut oil they are so soft & smooth! I'm trying to find some way to incorporate the coconut oil in some kinda homemade foot scrub. (#random: I *heart*

DIY

pedicures, even more than going to get my feet done professionally.) All in all, I am extremely pleased with the results and I'm definitely gonna continue using virgin coconut oil as a part of my daily skin care

regimen

.

Hair

I am not as pleased with the results of using coconut oil in my hair. I tried using the coconut oil and

EVOO

as a hot oil treatment and I followed the steps that I found online to the T. I was expecting super soft tresses after that; the results were less than stellar. Fortunately I've never really had a problem with really dry hair, so it's not like this was a major issue. But still, for all that time & effort, I felt like there should have been a noticeable difference. I may try this treatment again and either let it stay on my hair longer, not use a shampoo when I wash it out (or use one that's sulfate-free), or try mixing in other ingredients. I'll update with a part II on how that turns out, should I do so. In the meantime, I am using the coconut oil occasionally just to oil my scalp, especially around the edges. No big TA-DA or anything with that, but at least it gives my hair a nice

lil

shine when I do it.

Overall, I think I will continue using

PVCO

, but probably

more so

for my skin than my hair. Has anyone else used

PVCO

for their hair and seen positive results? If so, share your secret,

por

favor!